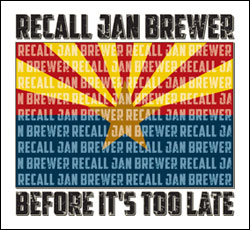 There's a couple of things I'm finding interesting in this. First, this e-mail, sent to me from the RecallGovernorBrewer.com site, and all their mailings, ended up in my Google spam folder. Second, Web of Trust, which I use for web security, gives the petition site a yellow warning. WOT posts little color donuts by every link so you know how trustworthy it is. Yellow is in doubt, while red is full on warning. Why is there a flag on this site?
Mostly, I'm saddened that we didn't get enough signatures. I drove around with the petition's URL painted on my windows, telling everyone I could. With this many people hating on Brewer, it's amazing there wasn't enough signatures. I even did a segment on our Tucson Access channel's LGBT program, Out West about it:
But that's the way the cookie crumbles. Hopefully next time we can get the people to sign. She needs booting. Seriously. Here's the entirety of the e-mail I just fished out of my spam folder, word for word, behind the click:
We haven't meant to keep you in suspense. We've been in suspense ourselves as most of our hard-working Circulators worked up to the last minute in order to gather as many signatures as possible. We have been tallying all week and finally have the news we have all been waiting for.

This is going to be a long email but I think you'll find it worth the read. My hope is that each and every one of you will read it in its entirety and forward it to everyone you know. I have a lot to say and some of it may surprise you. Hopefully, it will leave you inspired and hopeful..

Our recall was a success, but this time out we fell far short on our signature count. Why do I say it was a success? Because the number one objective that inspired this recall effort was accomplished with the restoration of the transplant funding for AHCCCS recipients. While we share concerns over many other important issues, this saved lives in a very real and immediate sense.

Certainly we cannot claim all or even most of the credit for this. Many groups along with those bumped from the transplant list and their families were responsible for this, but we know that our voice counted. We know we were heard. The threat of recall upped the ante for Governor Brewer and helped bring national awareness to this issue.

But our job is far from done. Not only are we hearing that AHCCCS is not paying or responding about claims from the first transplant performed since the transplant funding was restored, but of course we continue to be deeply concerned about the looming cuts to AHCCCS that will burden our hospital Emergency Rooms while leaving 150,000 needy Arizonans without healthcare coverage.

Though every supporter of our bipartisan recall committee may not agree on every issue, they all agree on one thing -- this is that Gov. Brewer needs to be recalled. It is nothing short of stunning that she has managed to alienate interest groups as diverse as pro-choice women and GLBT, and the Christian right who felt betrayed when she vetoed a bill on religious protection. Even the politically conservative Arizona Tea Party and Birther movements have now come out in support of recalling Gov. Brewer.

Then, of course, there are K-12 parents teachers, university students and professors, hospitals and healthcare providers, small business, second amendment advocates, Indian casinos, Arizonans of ethnic origin and the medical marijuana community. Where will it end?
Of greatest personal concern to me is Governor Brewer's conduct. Speaking as a life-long Republican, it is unlike anything I have witnessed in a long career focused largely on politics. Questions are asked but not answered. Certain media outlets are frozen out of major announcements and denied the right to ask probative questions in a timely manner. Promises are made but not kept leaving the voters feeling tricked (case in point: after supporting Gov. Brewer's one penny sales tax on the strength that she would not make budget cuts to K-12 education, she made them anyway after she got what she wanted from the voters).

Perhaps more troubling, she has played a high-stakes shell game with our states budget telling the voters that the "money isn't there" to spare cutting the transplant funding, ultimately costing lives, when a fellow Republican found 26 low-impact areas in the state's budget that could have been cut or reallocated instead. What person of conscience wouldn't find a way to withhold lottery payouts for an extra week if the interest earnings would cover the cost of life-saving organ transplants for those expected to die without the transplant? What decent minded person would authorize funds for an algae study that could wait rather than cold-heartedly bumping 98 Arizonans off the transplant list leaving them and their families despondent. What kind of person with any sense of morality would then refuse to meet with the prospective transplant patients and their families reducing some to beg the Governor for their lives on the nightly news?

Then there is the issue of how Gov. Brewer has held herself above the will of the voters and the Arizona Constitution in contravening two laws passed into law by ballot measure, Prop 204 passed in 2004 which lowered the income eligibility standards for AHCCCS, and now Prop 203, the medical marijuana initiative. No matter where you stand on these issues, you should be deeply concerned about the Governor's refusal to abide by the law and the Arizona Constitution except as she unilaterally sees fit. Many see this as an abuse of power and a very dangerous precedent for a Democratic society.

The Republicans who support this recall effort haven't turned on their party. They say that Gov. Jan Brewer has proven to be the wrong Republican for this job. The Democrats and Independents who support this recall say that she is unwilling to listen or compromise in a bipartisan fashion and is taking the state on a backward path and, not surprisingly, feel that the state would be better off with a Democrat leader.

They point to what has happened to Arizona's reputation in this country and around the world. Our great state has been reduced to being the brunt of jokes on late night talk shows and the dream thats so many Americans have of retiring here has turned to doubt, skepticism and even fear.

We know that Gov. Brewer's base is eroding from all sides. We know this from the thousands of emails we have received. We know this from the thousands who have registered on our website as a member, volunteer, donor or someone just requesting a petition to sign. And we know this from the thousands who in fact did sign the recall petition.

Why then were we unable to come even close to meeting the steep recall signature requirement of 432,028 registered voter signatures in 120 days? It's a simple and unfortunate fact: It all boils down to one thing . . . money. Only two Governors have been successfully recalled in U.S. history, and only one in modern times. This was CA Gov. Gray Davis who was successfully recalled in 2003 (Gov. Schwarzenegger replaced him). The difference between that recall effort and this one was that a single wealthy donor contributed $2,000,000 at the start of that effort compared with just a few thousand dollars contributed to our effort by a grassroots base largely comprised of the sick, disabled, and elderly dependent on AHCCCS (our state Medicaid program), students, displaced workers, struggling homeowners and the like. Many contributions we received were in odd amounts like $3.68 written on a check with a shaky hand signaling that it was a sacrificial contribution.

With $2,000,000, we too could have bought the media to generate awareness statewide about our recall effort which nearly everyone who signed told us they were unaware of until they had an encounter with one of our Circulators. With $2,000,000 we could have hired professional petition circulators to blanket the state and mailed out petitions to every registered voter in the state. With $2,000,000, we could have sent a very strong signal to governors and policy-makers across the country as we head into the 2012 elections. I am confident that this would have had a major impact when you consider that Democrat Kathy Hogul won a special election opposing proposed cuts to Medicare by her opponent just the other day in New York's traditionally conservative 26th district

.


Put the resources behind me and this Committee's thousands of supporters, volunteers and petition signers and we'll bring it home. We'll refile. We'll build a broader coalition. Or maybe we'll start a movement to demand responsible state government. It can be done. Let me know if you want us to do it. Let me know if you'll help. Let me know if you'll host fundraisers and call on prospective major donors. Let me know if you'll dig deep in your own pockets starting now to help us explore our options with a qualified elections attorney, to pay our necessary expenses and to explore where we go from here.


We have so much to show for the few thousand dollars you sacrificed to contribute to this effort which will enable us to hit the ground running for whatever we do next. Mostly, what we have to show is this: We have proven that a Democracy is not held together by a party in power dominating the other party, quashing opposing views or taking a "my way or the highway" approach. We have proven that impassioned Republicans, Democrats and Independents alike can agree to disagree and can work shoulder to shoulder as Americans to get something done that they do agree on. We have proven that bipartisanship and mutual respect work.

I could not be more privileged to know inspiring volunteers like Linda G., David C., Gail S., Adrienne S., Terry H., Barb T., Pat M, Bob W., Megan Mc, Mark C., and too many others to even name.
You
are what America is all about. You are the"best of breed". I am proud to to have worked with each and every one of you that has supported this effort and
you have left me better for it
.
I hope that
those who can
will continue with me on this journey to restore Arizona to a place of dignity, hope, prosperity, pride and a return to the way of life that made our state such an enviable place to vacation at, spend the winters at, get educated at, move to and retire in.
Are you with me?
With hope and resolve,
Mimi
Mimi Pryor, Chairman
Committee to Recall Arizona Governor Jan Brewer
www.recallgovernorbrewer.com